!meta http-equiv="refresh" content="500">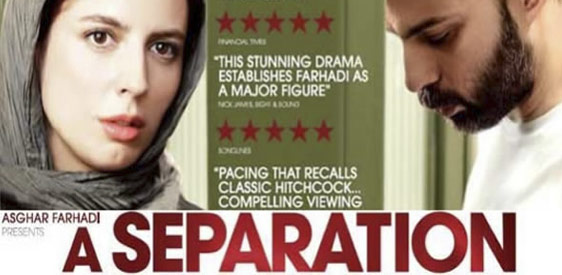 A Separation (Iran 2011) Starring Leila Hatami and Payman Maadi


This movie from Iran was nominated for two Academy Awards including best foreign Picture for 2011
which it won. The other category it was nominated for was best screenplay

It is an interesting movie from the region of the middle east where many nice people live under
a lot of oppression from the regime of mullas potentially which causes some decay of the spirit
in which it is allowed to function only below what is the potential I believe. This and other great
movies from Iran such as "children of heaven - by Director Majid Majidi" tells us of the great human
spirit which is actively trying to survive amidst much hardship and turmoil in the culture which forms
when it all comes together as it does with everyone doing their best to flourish as human spirits
despite the terrible ordeals they suffer when things go wrong and people start acting with negativity
including making false accusations against one another and allowing each other to languish this
way while the suffering grows unbearable to the extreme perhaps I would say. Ultimately what wins
the day is the human conscience which seeks to prevail along with the fear of god in these
devoutly religious people which causes the confessions which are needed to restore a sense of justice
to the plot. I enjoyed Leilas presence on the screen however she is probably not too typical a
character in the Iranian mainstream as I believe she is probably of european ancestry perhaps.
In addition there is a treatment of the issue of forceful behaviour towards women that seems to
be dictated by cultural norms at times of conflict however I fully believe this will change with an
enlightened future that is to come there I'm certain. I burst out in tears at one point in the movie
when a Judge shows mercy to an outspoken accused who plays the main character and this is
a typical reaction from me in watching many an Iranian movie as I grew up around the culture as
a child right up to my teens despite having had a British boarding school education which formed
me into who it is I really am at the core in this world.

Michael Rizzo Chessman
michael@moviesbyrizzo.info





Mainpage